Renewable Energy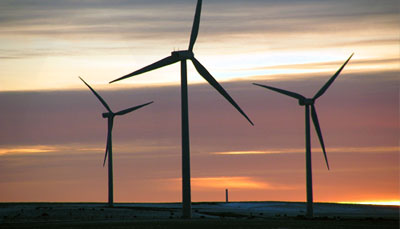 In today's world of increased energy use, sustainable alternative energy has become ever more critical. Advanced software technologies help integrate disparate power systems into efficient unified operations. Quickly turn vast amounts of real-time and historical data into valuable information to drive continuous improvement.
Asset Monitoring
Operators rely on real-time HMI / SCADA and condition monitoring to keep equipment at optimal efficiency. Turbine information including wind speed, wind direction, power, blade position, temperature and vibration are instantly data logged, visualized and analyzed.
Real-time Condition Monitoring
Visualization, Alarming ∓ Data Historian
Mobile Notifications ∓ Alerts
OPC, Modbus, DNP, IEC61400, Web Services
Plant Operations
Integration of equipment, plant and business data into a single unified plant operations' view provides command and control of the energy system. Operators can respond instantly and securely to energy, environmental and business demands. Easily create advanced ad hoc reports that can also be scheduled to view and coordinate operations and maintenance efforts.
GEO SCADA for 3D Plant-wide Supervision
Scalable Architecture with Multi-vendor Support
Dynamic Language Switching
Smart Grid Integration; IEC61850
Enterprise Management
ICONICS provides role-based analytics and intelligence for anyone in your enterprise. Easily customizable Web portals enable comprehensive personalized visibility of your operations, maintenance and financial information to help make decisions. Visualize your enterprise from anywhere, anytime and on any device.
Role-based Portal for Analysis & Forecasting
Enterprise Performance Reporting
Integrate Financial & Operational Data
Interfaces with MS SQL, SAP, Oracle, IBM
Rich Visualization and Reporting
Create rich 2D and 3D GEO SCADA visualization and reports with integrated real-time and historical geographical terrain maps, enabling a quick overview of multiple operations and plants located anywhere in the world. Deploy secure and personalized Web portal solutions using ICONICS PortalWorX™ to any browser. Custom ad hoc or scheduled reports can be generated with important operational KPIs to meet business or regulatory requirements.
Predictive Analytics Solutions
Wind AnalytiX™ is based on ICONICS' Hyper Historian™ with its high speed performance and large data volume capability. State-of-the-art Fault Detection and Diagnostics (FDD) technology identifies equipment and energy inefficiencies and provides possible causes that help in predicting plant operations.